Quality Assurance Office (QAO) is an independent office that reports directly to the UIBM Rector only. This office is committed to raising the quality of UIBM by implementing the entire institutional policy. The office consists of quality officials, recruited through a public competition. Quality officials at QAO are not part of UIBM's academic staff. The Office takes care of quality measurement, through all instruments of the instrument package at UIBM. The Office drafts reports with findings and recommendations for each questionnaire developed, and sends it to the Rector of UIBM. In addition, the office sends the data from the questionnaires to the Dean of the academic unit in order to plan for the development of the academic staff and continuous improvement. The office's mission is to ensure a quality level of teaching, learning, study programs, research and administration of UIBM through the implementation and continuous improvement of quality and ensure that the mechanisms and procedures for achieving quality are functional. Fulfilling this mission is in line with the mission of the institution and serves to fulfill its vision to be the best public university in the country and the region, and to prepare staff that will contribute to the development of the local and global community, in specific areas of study.
The duties and responsibilities of QAO are:
To provide professional and administrative support and management, guidance and support for quality assurance at all levels of the institution and assist in the organization of institutional accreditation and study programs;
To formulate strategies, policies, mechanisms, procedures and various practices for assurance and advancement of academic quality in the institution;
To promote the culture of quality within the institution;
To advise on the approval and development of study modules and programs;
To develop strategies and assist in the advancement of teaching and learning;
To coordinate the agenda of activities with quality coordinators at the level of study areas;
To prepare all documents related to accreditation or re-accreditation, various internal evaluation reports in collaboration with all faculties and coordinate visits of foreign experts for accreditation or re-accreditation.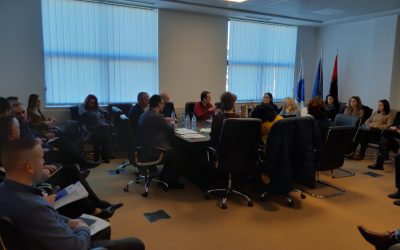 03/02/2020
Management, teachers, students and staff from the administration of the University of Mitrovica "Isa Boletini"…