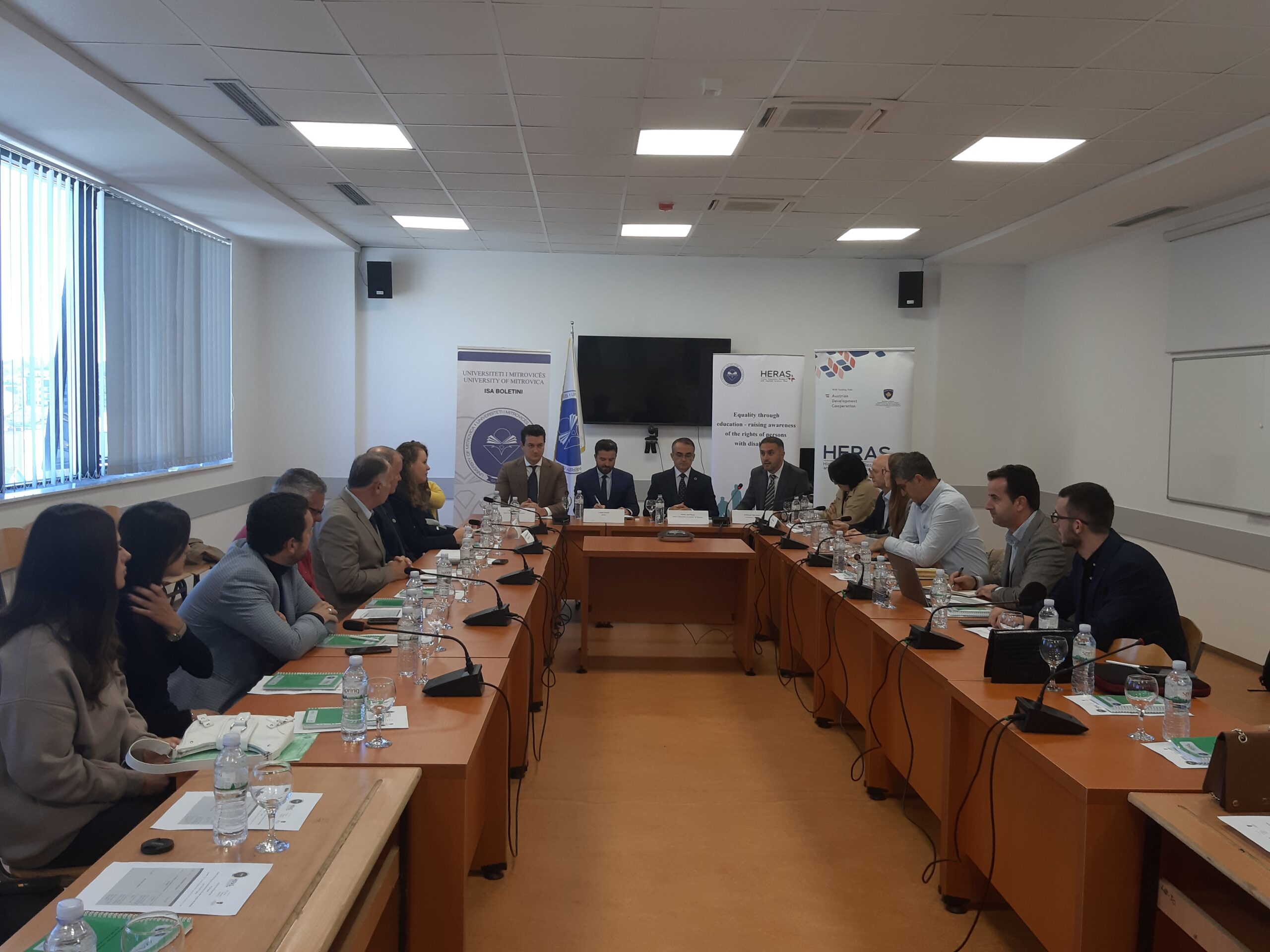 UIBM is considered a model for the conditions it has created for people with disabilities
"Isa Boletini" University in Mitrovica (UIBM) is a model in terms of creating conditions and treating people with disabilities. This was assessed on Tuesday in a round table, which was held within the project "Equality through education – raising awareness of the rights of persons with disabilities", which is supported by HERAS+ and which is realized by UIBM.
At this table where the legal rights of disabled persons were discussed, in addition to the heads of UIBM, there were also representatives from the Ministry of Education, Science, Technology and Innovation (MASHTI), the Kosovo Accreditation Agency (AKA), civil society etc. The coordinator of this project, prof. ass. dr. Zahir Çerkini said that the purpose of organizing this roundtable was to receive recommendations from the participants, in addition to the discussions regarding the legal regulations for the rights of persons with disabilities.
Rector, prof. dr. Alush Musaj expressed his satisfaction that in UIBM, in addition to the modern infrastructure that has created access and opportunities for people with disabilities, a very positive climate has been created in this regard. "It is extremely important that our institutions integrate the positive approach for this part of society. This creates opportunities for the culture we cultivate to travel before the laws that follow the good tradition that is established over time within the university community and then in society," he said.
Merita Jonuzi, coordinator of Human Rights at MESTI, said that the main problem regarding the inclusion of persons with disabilities in higher education is the implementation of legal regulations. She emphasized that the conditions created at UIBM regarding this part of society should be taken as an example by other institutions.
Even Shkelzen Gërxaliu from the Kosovo Agency for Accreditation emphasized the fact that UIBM is a model in terms of the conditions created for people with disabilities. He also spoke about the manual prepared by AKA that addresses this aspect by establishing clear criteria for accreditation for higher education institutions.
Nehat Dervish from HERAS+, said that UIBM is the biggest beneficiary of calls for projects in various fields. Meanwhile, Ariona Rushiti, president of the Student Parliament, spoke about the good experiences they received from the workshops organized within the framework of this project that deals with disabled people.