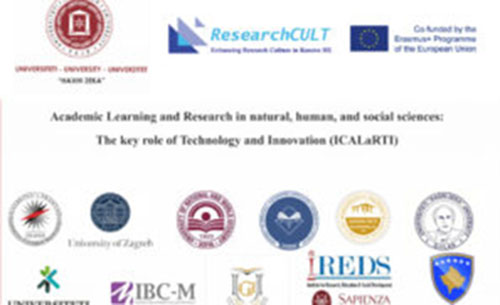 Two-day workshop within the ResearchCult project, ERASMUS +
On September 30 and October 1, 2021, took place the online workshop on "Research Ethics and Integrity and ToR for the Research Ethics Committee" as part of the project "Enhancement of the Research Culture in Higher Education in Kosovo", RessearchCULT Project, Erasmus +, funded by the European Union, and coordinated by IBC-M College.
The online workshop was attended by representatives of the Ministry of Education, Science, Technology and Innovation from Kosovo and all local and international partners of the ResearchCult project. From the University "Isa Boletini" in Mitrovica are participating Prof. Besim Gollopeni, Dean of the Faculty of Education, Prof. Behxhet Shala, Vice Rector for International Cooperation and Research, Prof. Faton Merovci and Arber Hyseni, Research Coordinator.
The ResearchCult project has opened the door to collaboration at the university and government levels in the field of higher education and research between participating institutions and countries.
For more information visit the website: https://researchcult.net/  or on social media like ResearchCult.